Crown Wealth Strategies | El Paso, TX
Our Expertise
Lizzie Metzger is a Registered Representative for NYLIFE Securities LLC*. She is also a member of The Nautilus Group®, a service of New York Life Insurance Company. She has received numerous awards from New York Life as well as other industry-leading organizations, and is a CERTIFIED FINANCIAL PLANNER™, holds a Masters in Financial Services, is an AEP® and a member of the Financial Planning Association. Some of the services that we specialize in are highlighted below.
*NYLIFE Securities, Member FINRA/SIPC, a Licensed Insurance Agency.
Our Approach
Every family and business owner's situation is unique. The more we know about you, the more precise recommendations we can make and the more we can help you. As a result, we take the time to discuss your hopes, dreams and objectives — the things that really matter to you. As needed, we will work with you to identify and prioritize your objectives, and then help establish benchmark goals. We will monitor progress and provide ongoing service as your needs and situation change over time. Strategies need to be adjusted periodically as your life changes. We will work with you over the years to help keep your program on track with your changing needs.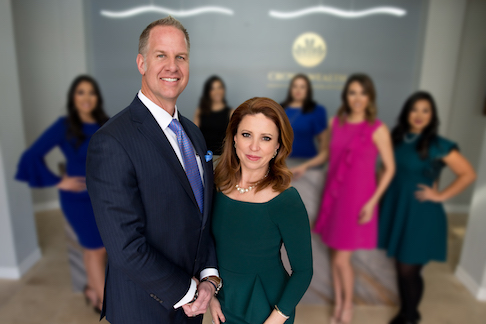 Our Team
Our team is here to meet each client's individual goals and dreams and managing and protecting your wealth is only a small piece of our mission. Through Lizzie, Brian, Andrew and Javier's affiliations with Eagle Strategies, Crown Wealth Strategies focuses our efforts on helping you achieve a comprehensive solution to your personal and business financial planning goals. We work closely with you to create and put into action a total financial plan to achieve your goals. This holistic planning approach provides you with peace of mind as well as financial security throughout your lifetime and beyond to future generations of your family.